Filter by Subcategory
Health and Safety
Instructor Renewals Payment
with Jennifer Collins

Current session started Jan 15, 2023 at 9 am
Payment for Instructor Renewal for 2 year period: 6/30/2023 - 6/30/2025
All Instructors are to renew in June of Odd Year
*** This is not a class ****
Heartsaver First Aid, CPR, AED - Zoom
with Jennifer Collins

Next available session starts Apr 18, 2023 at 9 am
1 additional session on Apr 25, 2023
AHA's Heartsaver courses are designed to prepare students to provide first aid, CPR, and use an AED in a safe, timely, and effective manner.
The Heartsaver First Aid, CPR, and AED is designed to meet the needs of the first responder (i.e., police/security officer, daycare worker, coach, teacher, family member) as they assist a victim until medical help arrives.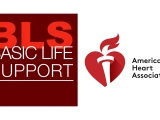 BLS Renewal - Zoom
with Jennifer Collins

Next available session starts Apr 20, 2023 at 9 am
1 additional session on Apr 27, 2023
The AHA's BLS Provider Course reflects science and education for CPR and ECC. Teaching both single-rescuer and team basic life support skills, focusing on high-quality CPR and team dynamics.
Students also complete a written exam.